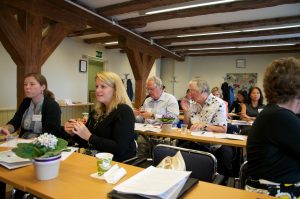 Understanding who people are working with will help them to be more successful. While the value of intercultural skills is difficult to measure, it only takes one major faux pas to make a person say "I wish I had known."  We can provide you and your staff with the information and tools you need to be effective.
You will be working with individuals from other countries. You want the business conducted to be effective for everyone. Although it is important not to stereotype, it is equally important to understand the similarities and differences between cultures. We can educate you and/or staff about sources and underlying factors cultural attitudes and values. You learn to look beyond the behaviors, appearance and communication style. We can help you understand what is important to the people with whom you are interacting. You may not realize that not everyone is focused on the 'bottom-line' or you may think that everyone follows the same set of ethical rules, but people's values and attitudes are not universal. You only see their behaviors but we will provide you with the insight to understand what is under the surface and thereby assist you in developing working relationships that can get the job done.
Whether you will be
doing business with people in your own organization but from other countries
interacting with individuals from other countries
helping to integrate people from other cultures into your organization
conducting business with companies from other countries
negotiating across cultures
recruiting individuals from other cultures
you need to understand the culture and they need to understand you. We can help maximize your effectiveness.
Training
The training programs are customized to a client's specific needs. The training sessions are usually interactive because most individual retain more information when they are actively learning. Training programs can be delivered onsite but technology allows for the delivery of education material through other virtual formats including webinars and podcasts. Below is a sample of training topics:
Leveraging Cultural Competence
Understanding Cultural Differences
Adjusting to a New Culture
Working with Another Culture
Working on an International Team
Working with Americans
Mergers & Acquisitions – Ensuring an Asset is Gained
Working with a New Boss who is from a Different Country
Eliminating the Unknown – Getting Down to Business
Effectively Communicating in English
Creating and Giving Presentations – Taking Cultural Differences into Account
Caring for Aging Loved Ones from Around the World
Specific programs can be  designed and customized to meet your unique needs. Contact us and let us help you increase the cross-cultural competence of you and your team.